Congratulations on your recent engagement!! Now that you are engaged time will fly by between now and your wedding day, so the best time to schedule your engagement photo session is right away.
Sure your wedding isn't for a little while, but why procrastinate? There are many other things that need to be booked, but photography is the most important. It is one of the few things that will physically go home with you after your reception has ended, and these captured memories will last more than a lifetime.
Hiring your engagement photographer as soon as possible has many benefits. Have a look at why we think there is no time like the present to secure your photographer…
You'll Get to Know Your Wedding Photographer Better
We find this to be the most important reason for hiring your engagement photographer. Most couples find that they like to book the same person to do their engagement and wedding photos. Hiring your engagement photographer right away allows you to get to know your photographer on a much better level, as well as find out if your chosen engagement photographer is available on the date you and your fiancé have chosen to get married. Typically the more sought-after photographers book up one year in advance, and some wedding photographers have a select number of clients they book each year.
Another reason for hiring your photographer right away is that you will also get a glimpse into what kind of a person your photographer is, both on a professional, as well as on a more personal level. Some things to keep in mind when hiring your photographer include… does your photographer answer your questions in a timely manner, is it easy to get in contact with your photographer, does your photographer make you feel comfortable while taking your photos?
Save the Dates and Other Printed Material
Once you have chosen a photographer you will now be in possession of professional engagement photos that you can use in all kinds of different formats. Here is a list of some of the more popular places that you can use these photos:
Save-the-Dates – Save-the-Dates are a very popular way to have the friends and family you will be inviting to your wedding mark their calendar for your very special day. Most couples choose to include a few photos from their engagement photo session.
Guest Book – Whether you choose to have the matte of a framed photo signed by your guests, a printed canvas or an album chances are you will need some nice photos of you and your fiancé.
Wedding Websites – Most of the more popular wedding planning service websites will provide you with a free website for using their services. This is a great place to upload all of your photos to your gallery to share with your family and friends.
Printed/Framed Artwork – There is no better way to display your love for one another than to have a few of your photos printed and framed and hung on a wall for you to look at on a daily basis! Most of the photographers I know allow you to print rights for all photographs taken during your session, but you will want to make sure of this ahead of time.
Reconnect and Practice for Your Wedding Day
Recently engaged couples need a way to slow life down and focus on each other. Planning a wedding is no easy task, but taking some time out to spend with each other can be a great way to alleviate the stresses of planning a wedding. Not only will an engagement photography session give you time to reconnect with each other, it will also allow you and your fiancé to practice being in front of a camera together. Most people aren't comfortable being photographed and have never been photographed by a professional photographer prior to their engagement session. Your engagement photographer will coach you on how to smile so that you look natural, pose you properly and give tips and tricks on how to look your best in your photographs. It is also useful to do your own research on posing, smiling and choosing outfits – just so you are prepared for your engagement photography session.
There you have it, a slew of benefits to hiring your photographer ASAP! If you have any further questions, or if I can be of assistance please feel free to email me at here. If you are in the market for a wedding and engagement photographer please fill out the information in this form and I will get back to you as soon as possible. Thanks and have a great day!
ABOUT THE AUTHOR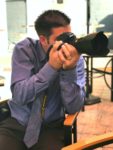 James Connell of James Connell Photography specializes in creative, unique and timeless wedding, engagement, family, couples and headshot photography. Serving Orlando, Tampa, St. Petersburg, & Gulf Beaches. Ask about our Free Engagement Photo Offer!
From Rustic Barns to White, Sandy Beaches – Capturing Life's Finer Moments One Click at a Time!
Call Today – (813) 625-8168