About me, about me… Where to begin, hmmm… Well, it's not easy writing about yourself so I'll just have at it. Since birth I've always been in to photography. Just kidding, I'm just making sure you're paying attention. I've more or less been in to photography since digital camera's started to come on the scene. The first photo I took (with my Kodak DC280)  that really caught my eye was this one –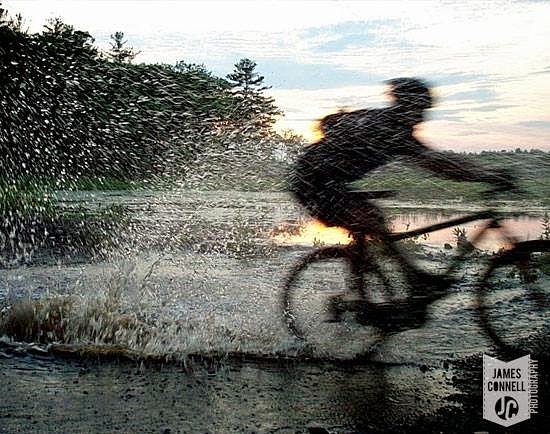 It was the first time I'd captured a silhouette, motion and a sunset. From there I wouldn't say I was totally hooked, I just kind of went about my way until the Sony DSC S85 came out. This was when my interest in photography got much stronger. I was probably 19 years old or so. I'd take my camera with me on hikes and motorcycle trips through Massachusetts, New Hampshire and Vermont and captured one of my other favorite photos –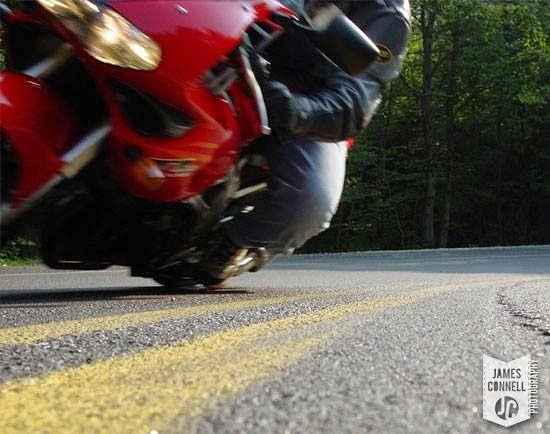 When you look at this photo try to visualize the fact that I was laying on the ground, in a hairpin turn on the Appalachian Gap between routes 116 and 100 and my buddy Kevin and his boot/peg passed only a couple feet away from my head. Knowing what I know now, I should have just zoomed in, but none-the-less, I was fearless (and a little naive). Side Note: The Appalachian Gap is my favorite motorcycle route of all time. Now, back to the story… at this time in my life, I was going to school for graphic design and took a photography course as one of my electives. Digital cameras were so new and the technology really wasn't there yet to create stunning prints so they taught us how to shoot film. After finishing up my design degree I worked for various e-commerce, software, design firms and sign shops and didn't really think much about making a living with photography. I considered this to be sort of a pipe dream. It wasn't until I purchased my first Nikon D90 that my passion turned serious. My Nikon D90 was my first, real Digital Single-Lens Reflex (DSLR). I quickly got immersed in the world of photography and had to find a way to make money and buy more equipment… I was hooked! I don't watch much TV, so most of my free time was spent practicing and watching YouTube. I learned about manual settings, posing, lighting and more. It's funny how a passion can turn up so strongly later on in life. I figured the best way to fund this addiction (I mean passion) was to try my hand at wedding photography. Thinking back it was a pretty scary notion seeing as I had zero experience.
That winter I searched Google for the more high-end photography studios in the area and worked as a second photographer to build my skills. After gaining my experience in New Hampshire my wife and 2 kids (ages 5 and 16) moved to Florida, where there are approximately 144,000 more weddings a year 🙂 Prior to moving I upgrade my camera gear to the latest and greatest Nikon D750. This changed the game dramatically as the image quality is superior in all kinds of lighting conditions.. I've really enjoyed photographing the weddings in Florida. From barns to beaches, and everything in between. I can say that moving from New Hampshire to Florida has been everything we anticipated and more. The weather is beautiful and the scenery is great!
A Little About My Style…
My style is unique, creative and timeless, but really it is so much more. I like bold colors and unordinary angles in locations that are not so common. My favorite type of people to photograph have an adventurous spirit, loves to travel and would easily welcome smoke bombs, or paint wars into a family, couple or engagement shoot. I specialize in wedding photography, engagement photos, fun family photos, couple photos, corporate headshots, and events. However, I do not limit myself to just these areas of photography as I am always open to new projects. If what you are reading has your head shaking yes, then head on over to my contact form and drop me a line. I thank you for visiting my website, I invite you to view my portfolio, and I look forward to creating memories for you that will last beyond your lifetime. Thank you for your time, and have a great day!